Buy Telegram Services
2023-06-09
Telegram SMM Panel - Best SMM Services for Telegram at PR Motion
Telegram panels are either providers or resellers that offer cost-effective services for promoting your business on the app. They offer Telegram SMM solutions that are also available to thousands of resellers.PR Motion is a one-stop source providing you with comprehensive Telegram services. With our Telegram SMM panel, you will receive the highest quality, cheapest services available worldwide. In fact, we make you rise straight to the Telegram skies.
Today, so many brands are active on Telegram. Thus, you need to spend a reasonable amount of money to boost your presence. You don't want your business to get left in the dust, of course! Our SMM panel for Telegram is the best deal; therefore, we recommend exploring our superior services, so you can quickly grow. The PR Motion team is more than happy to help clients seeking cheap SMM services for Telegram.
PR Motion Telegram SMM Services
PR Motion is an all-in-one tool that responds to all your needs at the best quality and price. As a comprehensive SMM panel, we help you expand your business beyond Telegram to other social media platforms.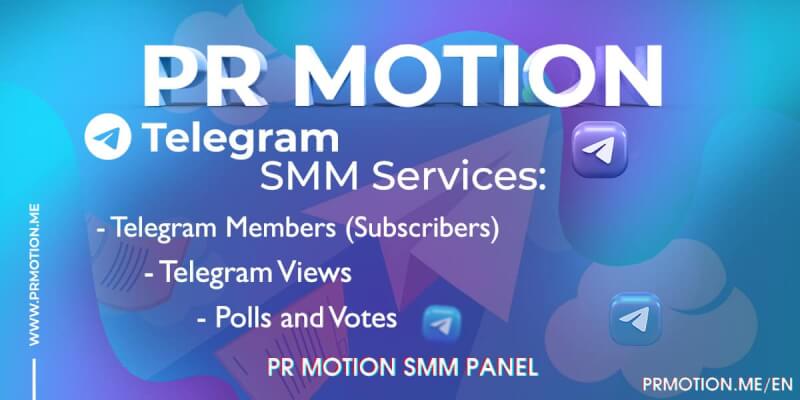 These are the features that our PR Motion Telegram panel offers to our valued customers:
Buy Telegram Subscribers/Members
Would you like to grow your business on Telegram? One of the most common methods is to buy and boost the number of Telegram members. You can instantly amplify your Telegram subscriptions with the help of purchased subscribers.
Why Should You Buy Telegram Members
There is no doubt that a channel with more members performs better and builds credibility quickly; thus, more subscribers are drawn to it. As a result, Telegram will help your business prosper.
Today, Telegram has become a crowded and competitive e-commerce platform. Therefore, partnering with a trustworthy Telegram panel is a wise choice. There is no question that marketing and promoting are lucrative when the customer base is large.
Buy Telegram Views
Today, the number of Telegram views is declining due to an influx of brands on the platform. As a lack of viewers may result in problems for your telegram channels, you should take steps to guard against it.
The PR Motion Telegram SMM panel aims at relieving you of this burden by providing you with views of premium quality based on the most cost-effective model.
Why Should You Buy Telegram Views
One of the musts to target active audiences is to pay attention to the number of post views on your Telegram account. Hence, you need to buy Telegram views to market your products/services on Telegram.
You do not want your Telegram channel to lose visitors (an unfavorable sign for your efforts), so you have to address the issue immediately if it happens. When dealing with such cases, the PR Motion Telegram panel is the ideal solution you need.
However, the number of channel views may drop from time to time. The reason is there are so many others similar to yours. You need not worry, but! Our team of experts will help you instantly increase your Telegram views at the lowest possible cost.
Buy Telegram Reactions/Votes
Telegram polls are a great tool to determine how to manage your account. There is also no restriction on its use; you can practice Telegram polls anywhere.
For example, if your channel is business-oriented, you can conduct a poll for votes. Moreover, if you run a motivational one, you may consider launching a Telegram poll to get feedback from your subscribers. It will allow you to improve your content and grow your audience.
Why Should You Buy Telegram Reactions/Votes
It is beneficial to buy votes from a Telegram SMM panel because it has multiple advantages. These include:
Improving client activities.
Bringing in more people.
Building trust for your channel.
Raising your brand awareness.
Increasing the visibility of other content you produced.
Getting to know your clients' tastes and preferences.
If you like to enjoy the above advantages, you should just visit the PR Motion website and make your order. Our Telegram panel provides you with premium quality, cheap Telegram SMM services.
FAQs
Q: Are Telegram SMM services on your panel safe to buy?
A: Sure! PR Motion provides you only with safe and secure Telegram SMM solutions. In addition to not being banned, your personal information will be highly protected.
Q: Is this Telegram panel reliable?
A: Absolutely! Panel management is handled directly by PR Motion, and it is entirely in our hands. You should just order your chosen services and see how you rise straight to the Telegram skies.
Q: Why do I need lots of Telegram channel post views?
A: Having an abundance of Telegram viewers makes your Telegram channel more credible. That is why you have to use Telegram SMM panels to buy views.
Q: What Telegram services do you offer?
A: You can get Telegram services from us, including Telegram members, Telegram channel subscribers, Telegram votes, Telegram views.